GSSP respects your privacy. The information gathered during registration will be used only for GSSP announcements, or other related events and activities. GSSP will not release the personal information of our attendees to any third party individuals or organizations.
Note that early registration ends on March 30th, and that there are no refunds. Attendees may transfer their registration to other parties without restriction.
Early Adult Registration Fees (through March 30) – $60
After March 30 – $70
On Site Registration – $75, or $25 per night
Adult guests at the same rates as above
Kids under 18 are free
2018 Tee-Shirt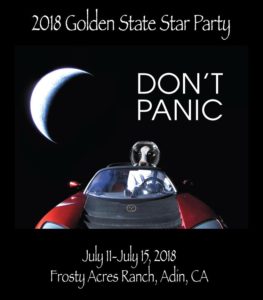 Advance Registration is now Closed. Please feel free to arrive on site and register at the gate.
IMPORTANT NOTE
GSSP tries to be as friendly as possible to people with special needs or health concerns. Please be advised that we are in a rural location with limited communication and limited access to medical services. Although we have basic amenities and are within 45 minutes of rural health clinics, please keep in mind that if you have a medical condition that requires frequent emergency intervention or have recently undergone a medical procedure that severely limits your mobility, GSSP may not be the place for you. If you have concerns, please contact us at info@goldenstatestarparty.org so we can discuss your particular circumstances.