Make This Your First Time!
If you've never been out to a sky beyond your backyard or local astronomy sites, you're in for an amazing treat.
Have you seen a dark sky, or only remember them from childhood? For you, that first view at GSSP will be truly incredible. The views are what keep us going back each year. Although you may become familiar with it, it is always an amazing sight.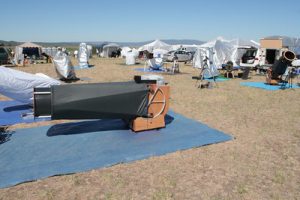 Do you need a telescope to attend? No! But if you have one, bring it (nothing is too small). If not, binoculars, or just your eyes will do. There will be plenty of telescopes to look through.
Do you think you're too much of a beginner? Its a friendly and helpful group – you'll fit right in and make new friends under an amazing sky. Whether you're an observer or imager, you'll have lots of company, get plenty of help, and see lots of new equipment and sights.
Need advice on camping at this type of event? This group has been doing it for 20 years, we can answer your questions and concerns by e-mail or on our one of our social networks. We assure you, it is much easier than you might imagine.
Three things make a great Star Party
The Sky, The Site, and The People.
The Sky – words cannot do it justice, come and see for yourself.
The Site – this is about as good as it can get; great horizons, huge, flat, with minimal dust, no rocks, and is a natural surface – all great for camping and setting up equipment.
The People – we're friends who have been getting together at these events for years. You are most welcome to attend and meet new friends.
If you've ever considered a dark sky trip
you owe it to yourself, and you're invited.